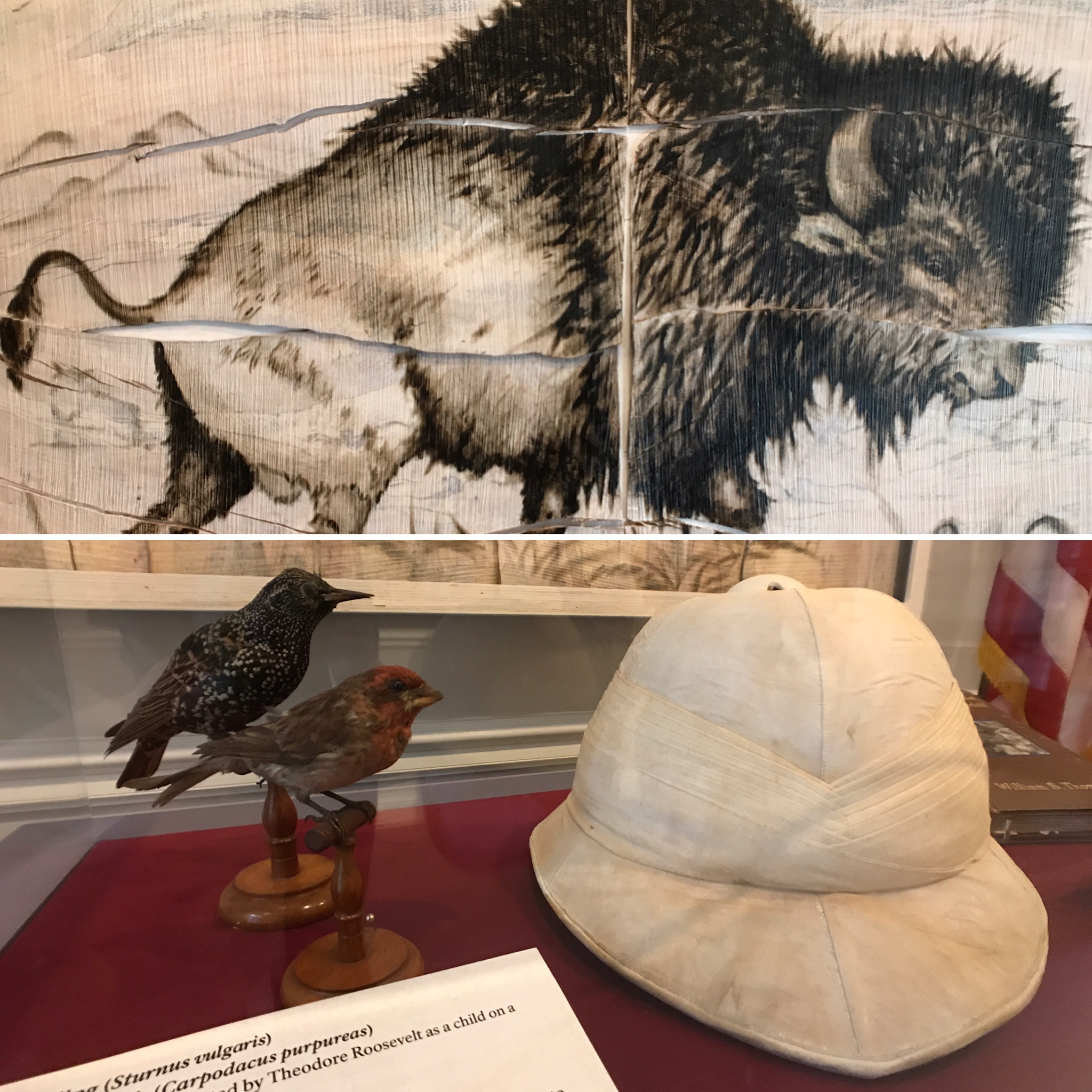 News Release Date: September 21, 2017
Contact: Susan Sarna, 516-802-5586
Oyster Bay, NY – Sagamore Hill National Historic Site has opened a new exhibit at the Old Orchard Museum honoring Theodore Roosevelt's legacy as a hunter-conservationist. The exhibit, entitled "Conservation from Here," pairs original artwork by artist Joseph Rossano with historic artifacts from the Sagamore Hill collection that reflect Roosevelt's fondness for wildlife and the outdoors. Rossano's five eye-catching pieces hang in the front hall of the museum depicting a bear, a deer, a bison, a pronghorn, and an elk based on etchings on one of Theodore Roosevelt's rifles. The images were rendered onto wood that came from a recently fallen copper beech tree at Sagamore Hill. The ink used to create the artwork was made from the tree's bark.
Exhibited with the artwork are numerous objects that highlight Roosevelt's life as a naturalist. A rarely-seen set of birds stuffed by TR as a child sits next to his pith helmet from his post-presidential Africa expedition. Artifacts from the Roosevelt Home have been placed on display for close-up viewing, such as the elephant foot wastepaper basket and walrus tusk cribbage board from the North Room. The exhibit also includes photographs taken by TR's son Kermit from his travels with his father in Africa, as well objects from Kermit and Theodore Roosevelt, Jr.'s Himalayan expedition in 1925.
"Conservation from Here" provides context to questions frequently asked by visitors to Sagamore Hill such as "Why did TR kill all these animals?" and "How can he be both a hunter and a conservationist?" Roosevelt carried an intense curiosity about the natural world throughout his life. Over time, his opinions about hunting and conservation changed. "TR was first and foremost a naturalist," notes Sagamore Hill's Curator Susan Sarna. "This passion for all things natural drove his life-long agenda to protect and preserve lands and animal species." Because modern tranquilizers did not yet exist, one of the only ways that naturalists could closely study animals beyond field observation was to kill them. Though TR hunted for sport, he saw hunters as stewards of the environment and promoted fair chase hunting laws and ethics. As President, he conserved over 230 million acres of public land to provide for the protection, management, and appreciation of wildlife.
The artwork and historic objects will be on exhibit at the Old Orchard Museum at Sagamore Hill National Historic Site until spring 2018. For more information on Artist Joseph Rossano, visit his website at josephrossano.com. More information about Sagamore Hill can be found at nps.gov/sahi.