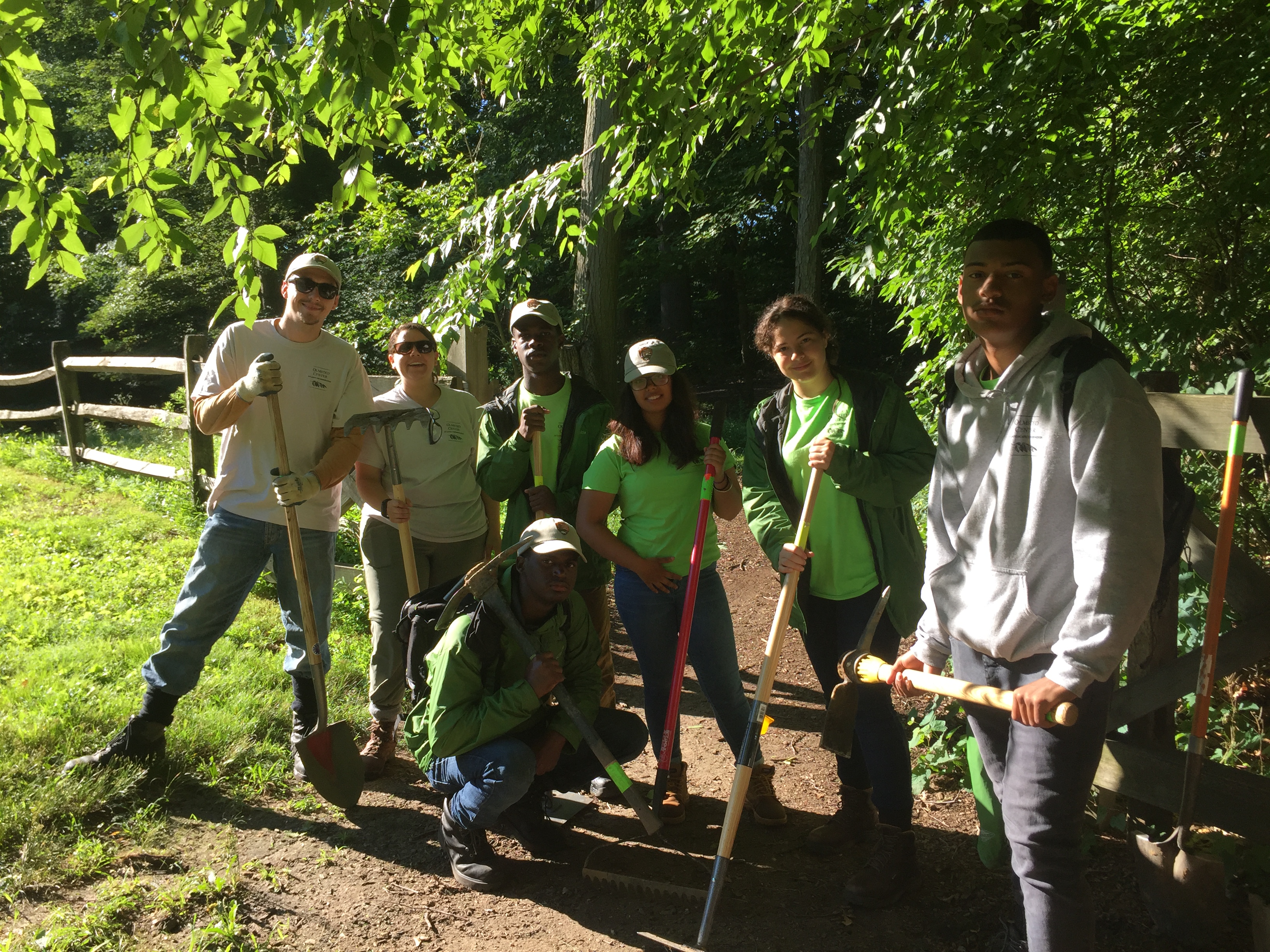 News Release Date: July 30, 2017
Contact: Tyler Kuliberda, 516-922-4788
Oyster Bay, NY – This week, Branching Out field teams from Boston and New York City met at Sagamore Hill National Historic Site for a four-day long gathering to learn about landscape management and work on various projects with park staff. Branching Out is a project of the Olmsted Center for Landscape Preservation that provides city youth with an overview of landscape management practices through educational workshops and hands-on field experiences. For the students and interns with Branching Out, working on historic landscape projects is a rewarding opportunity for young people to travel, meet others, study a fascinating field of work, and learn about the importance of park stewardship.
While at Sagamore Hill, field teams and interns with members ranging in age from high school to college age engaged in a number of landscaping tasks alongside experienced staff including turf rejuvenation near the Roosevelt home, repair of fencing around the fields, pruning of historic apple trees, and maintenance on the nature trail. Students got hands-on experience using power tools, constructing fence posts, placing water bars on trails, and learning basic arborist skills. The gathering culminated with a teach-back session in which the four groups gave in-depth tutorials on how to complete their particular task, each speaking on the project's highlights and how they dealt with challenges. During the teach-back exercise, many participants expressed a desire to pursue careers working in national parks and on public lands.
At the close of the four-day gathering, Sagamore Hill's Superintendent Kelly Fuhrmann thanked the program attendees by giving gifts of Sagamore Hill medallions and books about the Park Service and Theodore Roosevelt. "The students and staff from Branching Out engaged in valuable project work with National Park Service and Sagamore Hill staff during the past week," said Fuhrmann. "This developmental opportunity for the students provided a series of collaborative field work projects that the park staff greatly appreciates the help with." Chief of Maintenance Paul Cecere added that "Sagamore Hill was grateful to work with such a motivated group of upcoming arborists and preservationists. I hope their time here sparks an urge to seek out national parks all over the United States."
For more information on the Olmsted Center's Branching Out Summer Youth Program, visit their website at www.nps.gov/oclp or search for them on Facebook and Instagram.